Graduate Funding in Thematic Areas
Cornell Atkinson's Graduate Research Grants provide direct funding for periods of 6-24 months to students in any doctoral graduate field at Cornell (or terminal degree in fields that do not offer the PhD) in support of innovative research that aligns with our four priority areas: Accelerating Energy Transitions (AET), Reducing Climate Risk (RCR), Increasing Food Security (IFS), and Advancing One Health (AOH).
Cornell Atkinson's Graduate Research Grants program is supported by generous gifts from Bruce H. Bailey '74, Dan '47 and Pat Cornwell, Laurie Paravati Phillips '78 and Duane Phillips '78, and other Cornell Atkinson donors.
---
How to Apply
Eligibility:
Cornell graduate students
The 2024 Cycle Is Closed:
Questions or More Info:
Recipients
Fifteen recipients across Accelerating Energy Transitions (AET), Advancing One Health (AOH), Increasing Food Security (IFS), and Reducing Climate Risk (RCR): from Anthropology, Biological & Environmental Engineering, Chemistry & Chemical Biology, Communication Ecology & Evolutionary Biology, Global Development, Masters of Public Health, Mechanical & Aerospace Engineering, Population Medicine and Diagnostic Sciences, and Soil & Crop Sciences
Ten recipients across Accelerating Energy Transitions (AET), Advancing One Health (AOH), Increasing Food Security (IFS), and Reducing Climate Risk (RCR): from Animal Science, Entomology, Food Science & Technology, Global Development, Horticulture, Plant Biology, Plant Breeding & Genetics, Science & Technology Studies, and Soil & Crop Sciences
Martin Abbott (Science & Technology Studies)
Redrawing Risk in FEMA's National Flood Insurance Program: "Equity in Action" or Equity Inaction? (RCR)
Martin Abbott is a Ph.D. candidate in the Department of Science and Technology Studies. His research is concerned with the scientific and social nature of urban flooding, risk, and map-making. This research focuses on New Orleans and how the Federal Emergency Management Agency has refined the city's Flood Insurance Rate Maps. These maps form the backbone of FEMA's trillion-dollar National Flood Insurance Program and are among governments' most powerful tools to minimize the impact of flooding and adapt cities to climate change. Martin's preliminary analysis shows that urban flood risk is underestimated, poorly understood, and disproportionately affects low-income groups and minorities.
Nikita Agarwal (Food Science & Technology)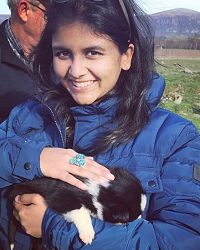 Grape Pomace Waste, as Natural Alternatives for Antibiotic Growth Promoters in Poultry Feed (AOH)
Nikita Agarwal is a PhD student working with Dr. Elad Tako on finding natural and sustainable alternatives to antibiotics in poultry feed. Antibiotic growth promotors pose a risk of increasing antibiotic-resistant microbes that can spread to humans through meat consumption. On the other hand, the wine and grape juice industry produces over 70 million tons of grape pomace "waste" annually. This low-cost by-product is a rich source of phenolic acids, which leads to soil pollution when discarded. With the funding from Cornell Atkinson, Nikita's research will aim to reclassify this waste as a co-product by evaluating its effects on various aspects of poultry gut health.
Jenny Berkowitz (SIPS Horticulture)
Developing a Soil Health Index for Urban Agricultural Soils to Support Food Security (IFS)
Jenny Berkowitz is a Ph.D. student co-advised by Thomas Björkman and Jenny Kao-Kniffin. Her work examines processes for developing soil health practices that fit farmer and community goals. This study seeks to utilize participatory methods to build off New York City Farmer experience and create an Urban Soil Health Index. Urban farming has gained widespread enthusiasm for its immense potential to increase food security, particularly for the many urban growers who are people of color and from working-class backgrounds that experience food insecurity. Urban farmers have developed their own methods for assessing their soil health, some of which are not included or addressed in current rural soil health metrics. When farmers test their soils for standard health parameters, they have no guides to compare the "optimal" or "aspirational" ranges they would expect to see. The Urban Soil Health Index will be created by and for urban farmers to address these gaps.
Lauren Brzozowski (SIPS Plant Breeding & Genetics)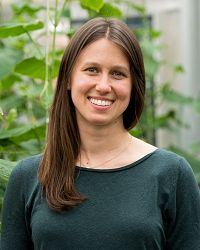 Leveraging Plant Immune Responses for Increased Food Security (IFS)
Lauren Brzozowski is a postdoctoral research associate advised by Dr. Jean-Luc Jannink in Plant Breeding & Genetics. As a plant breeder, she is interested in breeding new plant varieties for sustainable agricultural systems, especially those that contribute to ecological pest management. Lauren currently focuses on genetic research of phytochemicals in oat (Avena sativa) that contribute to plant disease resistance and to human health. Funding from the Atkinson Center will support her work in conducting new research to test whether oat varieties have different immune responses that can increase antioxidants and disease resistance. Studying how plants vary in their immune responses is a promising research area for breeding plants for resistance to pests and disease. This work can improve oat cultivation practices and provide a basis for studying other crop plants to promote food security in our changing climate.
Mohammad Irfan (SIPS Plant Biology)
Investigating the Role of Carotenoids in Improving Sustainable Agriculture of Sweet Potatoes Under Water Stress (IFS)
Mohammad Irfan is a postdoctoral research associate working with Gaurav Moghe in the Plant Biology Section of the School of Integrative Plant Science. He works in the field of plant-specialized metabolic pathways and high-value phytochemicals, such as anthocyanins and carotenoids of sweet potato, a nutritious superfood. The primary aim of this project is to address food security issues and improve the sustainable agriculture of sweet potatoes. Using transcriptomic and metabolomic approaches, he will investigate the role of carotenoids in sweet potato's response to water-challenging conditions, which is expected to affect sweet potato yields in the coming decades as per future climate predictions. This project also aims to study the carotenoid's metabolism during the sweet potato's interactions with arbuscular mycorrhizal fungi during water stresses.
Morgan Irons (SIPS Soil & Crop Sciences)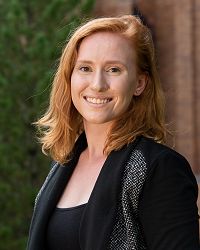 The Effects of Bacterial Organic Adhesives on Carbon Sequestration in Soils for Climate Change Mitigation (RCR)
Morgan A. Irons (she/her/they/them) is a Ph.D. candidate working with Johannes Lehmann to examine how bacterial organic adhesives affect carbon mineralization and sequestration through organo-organic and organo-mineral interactions in aggregates. The proposed work will use atomic force microscopy, scanning transmission electron microscopy, and spectroscopy techniques to obtain a mechanistic understanding of the spatial and chemical complexity of bacterial organic adhesive in soil aggregates, understand how that, in turn, confers persistence to other soil organic matter and carbon, and determine the chemical and surface morphology mechanism of adhesion between model bacterial species and relevant organic and mineral substrates. As soil contains the largest terrestrial pool of organic carbon (OC), understanding how OC occludes and turns over in soil is integral to accurately predicting and managing carbon sequestration and long-term soil fertility. The research will thus contribute to a more holistic understanding of how soil microbiomes affect carbon cycling and contribute to the development of more informed management strategies for combatting climate change and soil degradation.
Rachelle LaCroix (SIPS Soil & Crop Sciences)
Does Plant Litter Type and Microbial Diversity Effect Soil Organic Matter Molecular Diversity? (RCR)
Rachelle LaCroix is a Ph.D. candidate advised by Dr. Johannes Lehmann in Soil and Crop Sciences. Rachelle's research is focused on identifying soil biogeochemical mechanisms that contribute to long-term storage of soil organic carbon. The funding provided by the Cornell Atkinson grant will enable her, with the help of her undergraduate researcher Caleb Levitt, to better understand the role of plant litter type and microbial diversity on the decomposition of soil organic matter. Improving our fundamental understanding of complex biogeochemical processes will increase our ability to adapt soil management policies to a changing climate.
Andres Ortega (Animal Science)
Abomasal Infusion of Nutritionally Non-Essential Amino Acid for Evaluation of Overall Amino Acid Utilization and Productive Efficiencies in Lactating Dairy Cattle (IFS)
Andres Ortega is a Ph.D. Candidate mentored by Dr. Mike Van Amburgh, whose group works to further develop the Cornell Net Carbohydrate and Protein System (CNCPS). The CNCPS is a nutritional model used by dairy farmers around the world to formulate cattle diets and predict productive performance. Andres's research focuses on amino acid (AA) chemistry methods and metabolism in dairy cows in support of lactation and other nutrient demands. He is interested in developing novel methods to analyze the AA composition of different substrates using liquid chromatography with tandem mass spectrometry (LC-MS/MS) to better characterize the chemical composition of various model components. In this study, he will examine the role and energetic demand of non-essential AA for milk and milk component synthesis.  The objective is to be able to improve diet formulation and further improve productive efficiency. This can result in less N excreted into the environment and lower feed costs for dairy producers.
Annika Salzberg (Entomology)
Trap Crops for Flea Beetle Control in Cabbage Fields (IFS)
Annika is a Master's student in Katja Poveda's lab in the Department of Entomology. As an agroecologist, her research centers around landscape ecology and the effect of landscape simplification on insect body size, abundance, and diversity–and subsequently how these factors affect crop damage and yields. She will use her Cornell Atkinson funding to conduct applied agricultural research into managing flea beetles through trap cropping in New York State. Determining viable trap crops will provide a new and more sustainable pest control practice for local growers, decreasing the frequency and/or amount of pesticides needed to maintain yields, and minimizing detrimental effects of pesticide sprays on surrounding ecosystems.
Camillo Stubenberg (Global Development)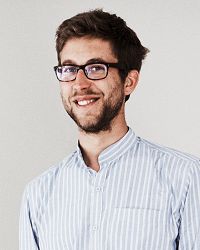 Energy Transition as Last Resort: The Adoption of Decentralized Renewable Energy Technologies in the Wake of State Absence and Fossil Fuel Shortages in Lebanon (AET)
Camillo Stubenberg is a Ph.D. Student in the Department of Global Development. He is advised by Lori Leonard, Jenny Goldstein, and Sara Pritchard. Camillo will use this funding to conduct field research in Lebanon in the fall of 2022, examining the rushed adoption of off-grid and renewable energy technologies in Lebanon, where an interlocking political and financial crisis has led to a total breakdown of the country's electricity sector. In the summer of 2021, a convergence of political, financial, and infrastructural crises led to severe fuel shortages. Without the diesel necessary to run both the state's power plants and private backup generators, the country was quite literally plunged into darkness. As a result, households, communities, and businesses are scrambling to access off-grid and renewable energy systems. The project aims to answer three related questions. First, how does an energy transition take place in the "absence" of fossil fuels and state regulation? Second, how do emerging green energy startups alter electric connections and reconfigure existing political and social patterns? And finally, how does connection to decentralized and renewable infrastructure affect end-users' energy behavior and political outlook? By shedding light on the ongoing dynamics in Lebanon, this research provides insights both for the design of renewable energy systems as well as policies aimed at fostering energy transitions across the globe.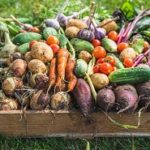 Increasing Food Security (IFS): Five recipients from Global Development, Horticulture, and Masters of Public Health
Reducing Climate Risk (RCR): Four recipients from Architecture, Chemical and Biomolecular Engineering, Soil + Crop Sciences, and Veterinary Medicine
Increasing Food Security (IFS): Four recipients from Entomology, Soil and Crop Sciences, Natural Resources, and Plant Breeding and Genetics
Reducing Climate Risk (RCR): Four recipients from Architecture, Anthropology, Biological and Environmental Engineering, and Soil and Crop Sciences
Ashley Jernigan (Entomology)
Elucidating the Effect of Soil Fauna on Crop Yields through Nutrient Cycling (IFS)
Ashley Jernigan is a PhD student in Kyle Wickings' lab in the Department of Entomology. She is interested in the effect of soil microarthropods on crop productivity and agroecosystem functioning. Her research explores how changes in microarthropod abundance and community composition impacts nutrient cycling and plant pathogen transmission and suppression. With this funding, Ashley is completing a project investigating how alterations to microarthropod abundance and community composition impacts soil nitrogen cycling and plant nutrient acquisition under different fertilizer treatments. Elucidating these important agroecosystem relationships will allow for improved management of crops and will lead to increased system resiliency.
Eugene Law (Soil and Crop Sciences)
Soil Carbon Storage and Soil Structure Impacts of 'Kernza' Intermediate Wheatgrass (IFS)
Eugene Law is a PhD candidate in Soil and Crop Sciences co-advised by Toni DiTommaso (Weed Ecology and Management Lab) and Matt Ryan (Sustainable Cropping Systems Lab). His current research explores the development of cropping systems and market opportunities for two novel perennial grain crops, intermediate wheatgrass and perennial cereal rye, using a systems approach that incorporates aspects of agronomy, ecology, soil science, and economics. He will use funding from the Atkinson Center to expand the breadth of his research on how perennial grain crops might enhance soil health by comparing indicators of soil carbon storage and soil structure regeneration in fields of perennial intermediate wheatgrass and annual wheat.
Ryan Lepak (Natural Resources)

Tracing Sources of Mercury Contamination in Freshwater Fisheries Across Space and Time (IFS)
Ryan Lepak is a postdoctoral research associate working with Peter McIntyre in the Department of Natural Resources, Casey Dillman, Cornell Museum of Vertebrates and the Mercury Research Laboratory in the US Geological Survey. His research focuses on understanding current and past sources of neurotoxic methylmercury to freshwater fisheries of central Africa by measuring stable isotope tracers in fish preserved in museums worldwide. The support from SBF will allow Ryan to visit and subsample fish from European museums that predate many instances of anthropogenic mercury contamination like mercury-mediated small-scale artisanal gold mining which has expanded rapidly in this region in unregulated ways. Accessing greater spatial and temporal coverage from museums specimens will allow Ryan to better inform the region of the extent of contamination and inform these impoverished nations of realistic baselines they may strive to achieve for safer fish consumption.
William Stafstrom (Plant Breeding and Genetics)

Modeling Mycotoxin Risk in a Tanzanian Smallholder Farming System (IFS)

Will Stafstrom is a Plant Breeding and Genetics graduate student working in Dr. Rebecca Nelson's maize disease lab. He studies various ways of mitigating the harmful effects of mycotoxins produced by maize fungal pathogens. His research spans multiple scales from the genetic basis of mycotoxin resistance to landscape wide indicators of mycotoxins. His work supported by the Atkinson Center will focus on modeling mycotoxin risk in a smallholder farming system in Tanzania by integrating local surveys of mycotoxins with remote sensing datasets of environmental factors. This project intends to improve understanding of mycotoxins' relationship with environmental conditions and to develop a useful tool for predicting mycotoxin risk areas on a yearly basis.
Allison Bernett (Architecture)

Early Design Decision-making Framework for Simulating Building Energy, Carbon, and Cost (RCR)

Allison is pursuing a master of architecture degree and working in Dr. Timur Dogan's Environmental Systems Lab in the architecture department. Prior to Cornell, Allison worked as a sustainability consultant. Her research in the lab focuses on developing an early design decision-making building simulation framework that when furnished with basic inputs generates design options that can be filtered by energy performance, carbon footprint, and cost criteria. Given that architects make critical early design decisions on orientation, massing, and structure that significantly affect the energy use and carbon footprint of the design, such a framework aims to better inform these initial decisions, reducing time and cost while improving building performance.
Luisa Cortesi (Anthropology)
The Flood Room (RCR)

Luisa Cortesi (PhD, Yale, Forestry and Environmental Studies and Anthropology) is currently the S.H. Taylor postdoc in Anthropology and STS. She is an environmental anthropologist, interested in the environmental knowledge of increasingly disastrous waters, in particular floods and toxic drinking water, and environmental justice. She works primarily in North Bihar, India, a place that is recurrently flooded and increasingly so, where she asks under which conditions are people better equipped to face a disaster.
Alexa Schmitz (Biological and Environmental Engineering)

Extracting Rare Earth Elements with Engineered Microorganisms for Sustainable Energy (RCR)

Alexa is a postdoctoral researcher with the Barstow Lab in the Department of Biological and Environmental Engineering. Her research focuses on the development of an efficient and sustainable solution to the growing demand for rare earth elements in light of their utilization for renewable energy technologies, especially wind turbines. In collaboration with researchers at the Idaho National Lab, Alexa is using the bacterium, Gluconobacter oxydans, to extract these critical metals from end-of-life waste materials via its production of strong, but biodegradable, organic acids. This bioleaching process will hopefully replace some of the more harmful technologies currently in place for rare earth extraction. Funding from the Atkinson Center will support Alexa's development of whole-genome knockout collections in G. oxydans, allowing her to comprehensively identify genes underlying the bioleaching process that can be targeted for improvement through bioengineering.
Itamar-Ariel Shabtai (Soil and Crop Sciences)
Can Improved Drainage Water Management in Peat Soils Reduce Greenhouse Gas Emission and Optimize Crop Yields? (RCR)

Itamar Shabtai is a postdoctoral fellow in the School of Integrative Plant Science working in Johannes Lehmann's lab. He is interested in how soil water content can be managed to stabilize organic carbon in the soil. Peat soils contain more organic carbon than all the forests of the worlds combined but their degradation under agricultural use is responsible for 6% of all anthropogenic CO2 emissions. Itamar will leverage ACSF funding to study how improving the water budget of agricultural peat soils can minimize peat carbon decomposition. This work will help develop management tools to reduce CO2 emissions from agricultural peat soils.