Sustainability Innovation Leaders
At Cornell Atkinson, collaborating defines our approach to catalyzing change and creating scalable, lasting impact. Our postdoctoral fellowships reflect this commitment to partnership by teaming postdocs with advisors from both the Cornell faculty and nonacademic organizations. The Cornell Postdoctoral Fellowships in Sustainability and the new Atkinson-Environmental Defense Fund (EDF) Postdoctoral Fellowships stimulate original cross-disciplinary research and the development of sustainable solutions by developing and deepening connections with external partners.
In the last five years, Cornell Atkinson has supported more than 20 postdoctoral fellows in translating research into real-world results, from biological control agents for small-scale farmers to renewable energy in China. By developing a cohort of postdoctoral scholars on campus working in sustainability and related fields, we are also building a core group of leaders capable of creating effective, workable solutions to the most serious sustainability questions. Applications are welcome from all disciplines across the natural and social sciences, as well as the arts and humanities.
Cornell Atkinson and EDF Postdocs are also eligible for our new Sustainability Leadership Program, designed in collaboration with EDF. This program offers professional development around interdisciplinary and cross-sector collaboration, science communication, policy, and career design.
---
Postdoc Fellow Works to Save Endangered Hawaiian Birds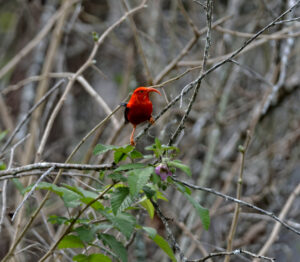 As the climate warms, mosquitoes are invading the last strongholds for native birds in Hawai'i's upper elevation forests. Dr. Katherine McClure, a quantitative disease ecologist and 2019-2021 postdoctoral fellow with Cornell Atkinson and the Cornell Wildlife Health Center, is saving Hawai'i's native bird populations from avian malaria.
---
How to Apply
Eligibility:
Ph.D. completion before fellowship begins
2022 Cycle Is Closed:
Questions or More Info:
---
Selections